Rebranding & expanding our equine supplement range
The Pure Feed Company's popular range of equine supplements has undergone a makeover with a rebrand and the introduction of five new products.
Formerly known as Pure Plus, the supplements have been reformulated in line with current scientific thinking and guidance, repackaged with a QR code to help owners directly access helpful guidance and details of benefits / feeding recommendations … and renamed The Pure Feed Company Supplements™.
Introducing 4 exciting new Pure Feed Company Supplements™
In addition to the original four products (Joint, Respiratory, Electrolytes and Gut Support), the collection of superior quality, yet value for money supplements now also includes:
Pure Detox – to support the body's natural immune response and liver/kidney function. Contains dandelion – a natural diuretic to help flush out toxins via increased urine production; Brewers Yeast and mannan oligosaccharides (MOS) to help support efficient digestion and hindgut health, particularly important during times of stress. MOS helps to bind toxic substances which can be eaten via fungi on feed materials and forage.
RRP £34.50
Pure Vitamin E, lysine and selenium – helps to encourage muscle health and cellular function; supports the immune system and aids recovery after work, so ideal for horses under stress or in hard work. Contains a natural source of vitamin E, which is an antioxidant and targets free radicals as a result of increased exercise, injury & illness and laminitis. Also included is lysine, an essential amino acid.
RRP £25.50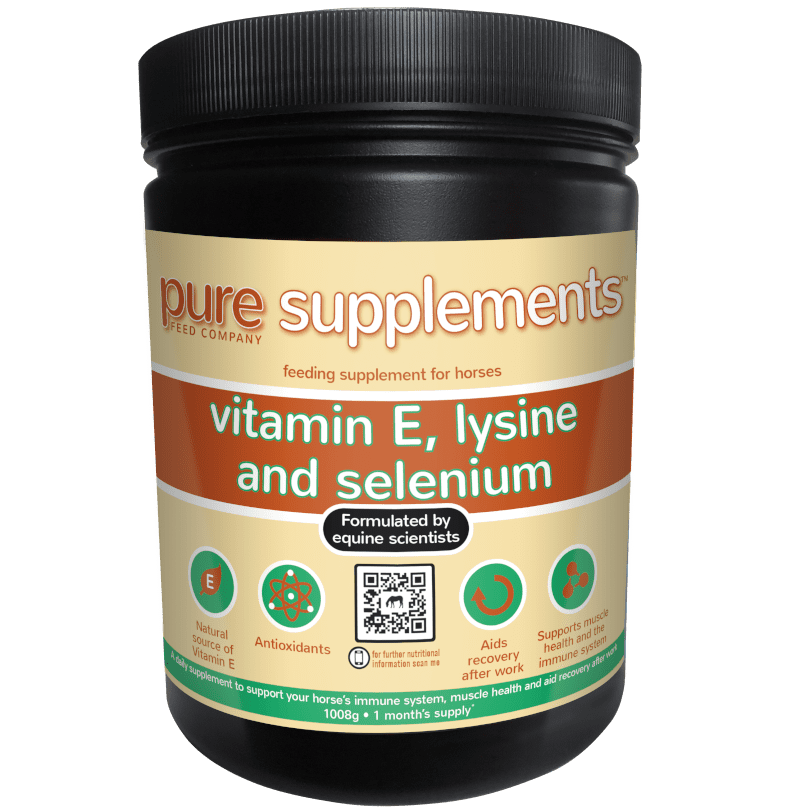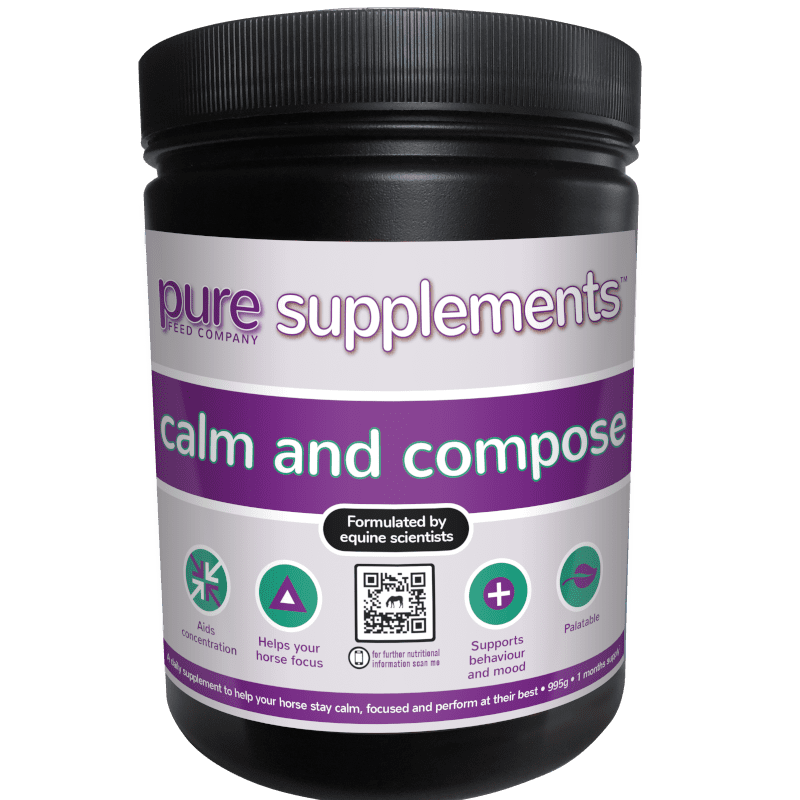 Pure Calm and Compose – mint flavoured to please your horse's palate this supplement contains a range of herbs (ashwagandha, passion flower, lemon balm and chamomile) renowned for their calming effect on the nervous system. Ashwagandha is also an antioxidant. Includes L-tyrosine which can help improve focus and concentration.
RRP £36.50
Pure Gastro-Support – helps to support the stomach. Contains rosehip – a natural source of vitamin C, and vitamin E. Together both vitamins represent a powerful combination of antioxidants which have been shown to support a healthy stomach environment. Brewers Yeast and mannan oligosaccharides (MOS) also support the hindgut and the passage of food through the digestive tract. Pectin and lecithin are included which help stimulate the amount of mucous produced to protect the stomach lining from gastric acid. The inclusion of aloe vera helps to support a healthy digestive tract, lubricating it and also encouraging mucous production.
RRP £47.50
Pure Spearmint, peppermint and fennel – great for fussy feeders this supplement aids digestion and has a wonderful minty aroma.
RRP £19.50
Purchase your equine supplements locally or online
Each of the new products is presented in a tub which provides a 4-week (one month) supply for the average horse (weighing 500kg). Each tub contains a Tack Room Token, as per that featured on The Pure Feed Company's feed bags, which owners can collect and redeem against offers and rewards found in the members area of the website, known as 'The Pure Tack Room'.
The Pure Feed Company Supplements™ can be purchased from your local retailer or are also available online at www.purefeed.com. 
Browse The Pure Feed Company Supplements™