Lucinda has been a Pure Feed Ambassador since 2012 and is thrilled with the results in all her horses, from foals to top level:
"My horses have never looked or felt better. It has to be one of the most simple, easy-to-use feeds on the market for all levels."
Carla Milne and Hey Good Looking GK became Petplan Equine Novice U21 Champions, seamlessly following on from winning her national title at Prelim in 2018. She also had some great rides in the hotly contested Elementary Freestyle Silver and Novice Silver championships. 'Cookie' is powered by Pure Condition.
Steph Taylor and her mare WGS Perugia (powered by Pure Condition) made their championship debut in fine style, dancing away to a brilliant 11th with 68% in the Advanced Medium Freestyle Silver, also taking highest placed youth rider.
Alison Cahill and Zyrano (powered by Pure Easy) finished a respectable 11th in the Petplan Equine Medium Silver, just getting pipped out of placings but scooping the highest placed senior horse in the class.
From one championship to another – the Winter Show Jumping Championships, also held at Hartpury in April, where we had two #PureTalent riders making their championship debut. Charly Edwards aboard Adonis and Brass Monkey in the 1.35 Pro Trophy Open, Adonis in the 1.25 DDS Final and both horses in Grand Prix in the Gala evening. Charly feeds her competition horses Pure Condition and Pure Performance. Maddie Walters also made her championship debut in the Novice Championship on Keela Jane Star having a great ride in a huge class.
#PureTalent Badminton Course Walk With Lucinda Fredericks
On Friday the 3rd of May the Pure Feed team made a trip to Badminton Horse Trials to meet with the #PureTalent riders for a private course walk with Badminton, Burghley and Kentucky winner, and Olympic medallist, Lucinda Fredericks.
A hugely enjoyable and fascinating morning, Lucinda, having ridden at Badminton 10 times and won the event on Headley Britannia in 2007, provided great insight into what it's really like riding around such an iconic track, unravelling the mindset and thinking behind the approach and execution of each jump. Thoroughly inspiring, all of our riders went home with plenty of tips and tricks to use in their own training and at competitions.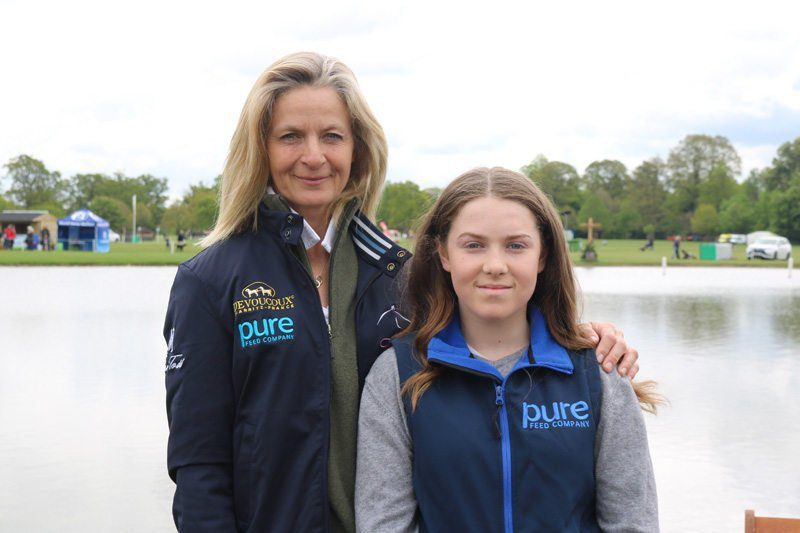 April saw our #PureTalent dressage riders compete at the British Dressage National Championships at Hartpury, where they brought home two national titles and some brilliant scores!
Izzy Chaplin and Vincente II became Petplan Equine UK Inter II Champions and finished 3rd in the Petplan Inter I, also being awarded highest placed veteran and highest placed U25 rider. 'Vinnie' is powered by Pure Performance.
Finally, as the eventing season continues to pick up pace, we've had more brilliant results coming in from our riders. Young rider Sophie Wildern had a great result at Larkhill, taking the top spot in the BE90Open on Supreme Watts, fed on Pure Easy, at their first event on the year. At the Badminton Mitsubishi Motors Cup (Badminton Grassroots), held at Badminton Horse Trials, Megan Elphick and her talented pony Brynithon Silver Locket held 5th place overnight after dressage out of a massive start list in the BE90, however an unlucky fall on cross country unfortunately meant they missed out on a final placing. Myles West, aboard Laura Paice's Grand Revolution, finished an admirable 33rd our of a whopping 103 starters!