Annabelle and her horse Rocky
"Rocky, who I have had for almost 3 years, is an 18 year old German Warmblood by Rubinstein. He has previously competed at International Grand Prix. When I first got the ride on Rocky we were competing at Advanced Medium; however over the past 24 months we have progressed to Inter 1, with our best result of 72.36% having been achieved at the end of October. In our time together, we have had much success together competing at numerous regional championships, Premier Leagues and Home Internationals."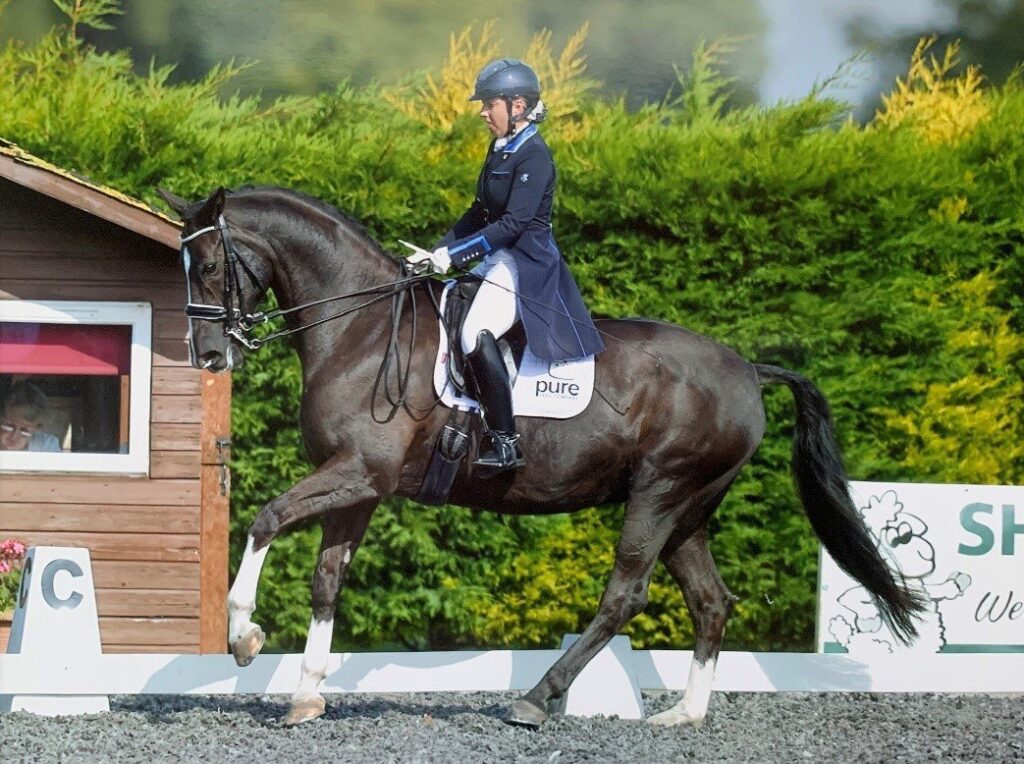 Annabelle's other horse is Toto
"Toto is a 4 year old German Warmblood by Tolegro. Over our last year together we have built a strong partnership and he is growing in confidence weekly. By traveling for monthly training sessions away from home and competing at local competitions his experience of the dressage world is widening. By the time he turns 5, he should be well prepared to start his competition career."
We asked Annabelle why she started feeding Pure Feed
"For the three years that I have been using Pure Feed, I believe Rocky and Toto's performances have been enhanced through the high quality product offered. After researching several companies, I chose Pure Feed because of the nutritional benefits offered which was perfect for the work my horses are in. It is far easier for both horse and rider as it is quick to prepare with everything pre-mixed in the same bag!"
Find out which Pure Feed Annabelle uses for each of her horses and why
"During the summer months, Rocky's feed is Pure Working; due to the level he is competing at he needs a relatively high energy feed. I need to be careful however with how I feed him as he only has to look at the rich, meadow grass and he puts weight on.
In the week before and during competitions he eats Pure Performance which gives him an extra boost to help his performance.
During winter when the grass quality is poor his feed changes to the Pure Condition which keeps him healthy and his weight consistent.
A fundamental element in choosing these feeds for Rocky is the fact he needs both fast and slow release energy without making him fizzy. He can be sensitive to very high energy feeds so the combination of oil and oats provides the perfect balance that he requires.
I have had so many compliments on how well Rocky looks since using Pure Feed and no one believes me when I tell them he's 18 years old! He is absolutely full of positive energy and I can't thank Pure Feeds enough for creating this fabulous feed!"
"Toto is currently fed on Pure Easy all year round. I chose this feed for him because he needs to build up a lot of muscle and initially needed to put weight on. He is a lively youngster due to his age and needs a feed to support his growth and muscle development without making him too fizzy. I believe this feed keeps him more focused when he is learning something new."