How do you put weight on a horse? If your horse is struggling with condition and you can't see why, we suggest talking to your vet first to establish whether any treatment is required. If your horse gets the clinical all-clear, it's time to look at their diet. Does it contain the right nutritional mix? Is it palatable? Is it friendly towards any specific requirements your horse may have – like poor dentition or a sensitive stomach?
If you own a horse that struggles with condition, you'll know how exasperating (and expensive!) it can be. You may have explored potential medical reasons, searched the market for a feed that gives you results, or resigned yourself to paying for large amounts of feed to meet their caloric intake.  While it may feel complicated, it doesn't have to be – two of our wonderful customers share their stories about how their horses were able to gain weight and get back to a healthy condition.
Why is Pure Condition Mix good for my horse's weight management?
Pure Condition Mix is a fibre-based feed with rapeseed oil as its main source of calories. It is designed to improve condition whilst keeping your horse calm because the energy is released slowly into the body over time. It contains the balancer too, so all the vitamins, minerals and amino acids that your horse needs are included and you don't need to buy and mix in a separate source of nutrients.
How to put weight on a veteran horse
Pure Feed customer Polly had tried all the condition feeds on the market for her veteran show horse Tucker. But her search for the right feed ended happily when she found Pure Condition Mix.
"I was introduced to Pure Feed's Pure Condition Mix for my Veteran show horse Tucker. The results have been amazing. I've tried all the condition feeds on the market, literally! But this has been the best. We adore this feed and I've had so many compliments on how Tucker is looking."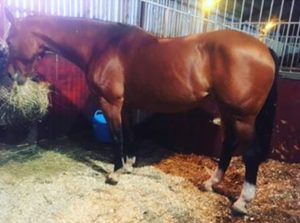 How long does it take an underweight horse to gain weight?
Tegan asked for a diet plan from the expert nutritional team at Pure Feed when she became concerned about the condition of her horse Candy. After analysing Candy's overall state, we recommended Pure Condition Mix and Tegan switched immediately. Within a few months, Candy had filled out and showed improved condition!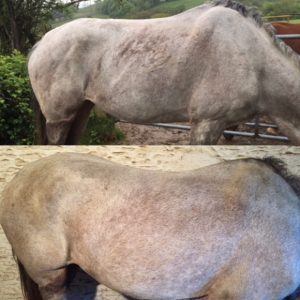 "I received my diet plan for Candy, and have been feeding her according to it ever since. Look at the difference! The first picture was taken on the day we requested the diet plan and the bottom one was a few months afterwards! Thank you so much for introducing me to Pure Feed! We love it!"
Pure Condition Mix: well-rounded nutrition for weight gain & muscle maintenance
Topline & muscle development
Key nutrients for healthy hooves, gut & more
Low in starch – less diet-related fizz!
As well as adding condition in a safe way and providing the full spectrum of nutrients with its high-quality balancer, Pure Condition Mix comes with other benefits. It supports topline and muscle development, and the nutrients contribute to healthy hooves, good hind gut health and all-round wellbeing. And because it is also low in starch, it helps to avoid any diet related excitability too. As Tucker and Candy demonstrate, it works a treat for adding and maintaining condition on your horse. For more information about Pure Condition Mix, click here.
We also offer Pure Condition Pellets for horses that are fussy feeders or have poor dentition; Condition Pellets can be fed dry or soaked to a mash.
Personalised diet plan for your horse
Are you looking for some advice about your horse's feed? Our expert nutritionists are on hand to help you cut through the chaff and figure out the best way to support your horse nutritionally.
You can also speak to our friendly team directly Monday to Friday, 9 am to 5 pm at 01458 333 333